Note: 3.0.1 fixes some bugs in 3.0 (which is described in this post).
This major update brings in several features that Hanping Pro users have been enjoying for over a year:
Starred words - star any word (or even a phrase not in the dictionary) for easy recall later on
Clipboard support - copy any Chinese headword to Clipboard to use outside of the app (e.g. in email/sms app)
External links (only when you are online) - quickly & conveniently look up a word in one of the many supported 3rd party websites such as YellowBridge (for detailed word information), nciku (for sample sentences), Skritter (for stroke animations & writing practice) and many more
Lookup Chinese words within dictionary definitions
Lookup characters within headwords
Other improvements include:
Search term is highlighted in results, when searching English
Improved support for long phrases/sentences. Try pasting a Chinese SMS into the search box and you get instant Pinyin and Simplified/Traditional conversion, as well as all the vocab!
You can now disable ads (see Settings screen)
So why buy the Pro version?
Chinese handwriting recognition: This is much more convenient than using a 3rd party IME, not just because it is built directly into the Search screen but also because it waits for you after each stroke!
Homescreen widgets: Have one, two, three (or as many as you like) widgets on your homescreen to test/remind yourself of the words that are important to you. You assign a Hanping word list to each widget so you can test yourself on all your starred words, or just the ones with a certain tag, or maybe use a predefined word list such as frequent characters or popular idioms.
Audio by a real native Chinese speaker: Over 2,000 single-syllable audio files with support for Erhua variants. These are designed for the beginner, so are spoken slowly and clearly
Multi-dictionary support. If you want your dictionary defintions to have more grammar and sample sentences then you need to invest in a high quality dictionary! The superb ABC Chinese-English & ABC English-Chinese dictionaries are available as separate in-app purchases. We have worked very hard to integrate these seamlessly into the app. So, no need to cycle through dictionaries to find the word you are looking for. Instead, Hanping Pro merges the results so you can see everything in one go
Last but not least, Hanping Pro is, for a limited time, on special offer - HALF PRICE!
\caption id="attachment_520" align="alignnone" width="480"][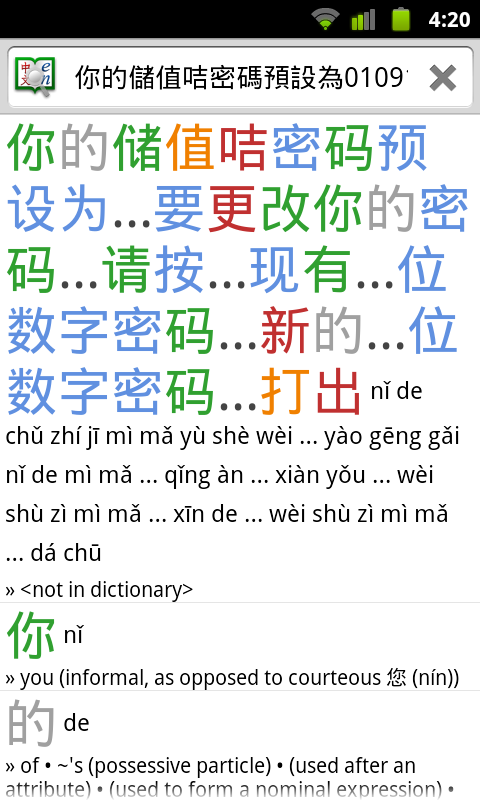 SMS breakdown[/caption]
\caption id="attachment_521" align="alignnone" width="480"][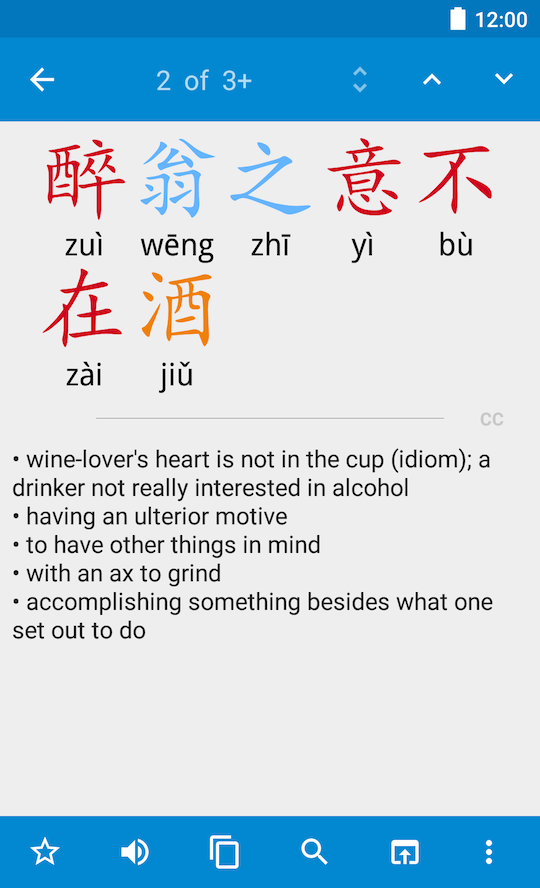 Browse Screen is now in Hanping Lite[/caption]
Hanping Lite is available from the Google Play Store.
We hope you like these new changes and are always grateful for your feedback.
Many thanks,
embermitre