This update brings a UI refresh of Material Design goodness and is currently being rolled out to all devices running Android 4.4 (KitKat) and higher. The rollout may take a few days to complete.
Improved recognition
Material Design and redesigned action barn - even more user-friendly :)
Navigation Drawer
Better support for high-res images - now (on most newer devices) you can work with up to 16 megapixels. This is great when you are working with a page containing a lot of text, such as a large menu
Updated sample images - now there are two sets; one for Simplified characters and one for Traditional characters. The set shown depends on your Simp/Trad setting in Chinese Settings screen
Image Mode: added button (pen icon) to launch image editor (e.g. Android's Photos app) - note: if you are viewing an auto-snapshot, first use save button (disk icon) to save the new image to your photo library
Image Mode: Moved text direction button out of action bar (because most people don't use it). Overflow menu (top-right three dots icon) now has a "Show Direction") item. Use that to show a text direction icon in the top-left corner of the window.
Live Mode: Flash button moved up into action bar (so easier to access). Macro button removed, because it didn't work on many devices anyway.
Live Mode: Manual mode button (M icon) much simpler: now, it simply stops automatic refocusing and auto-snapshot. To focus, touch the window. To snapshot (i.e. use current preview in Image mode), use the shutter button (center-left icon)
Some bug fixes
[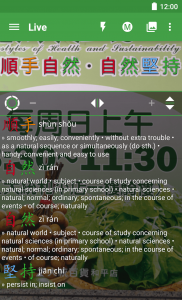 ] [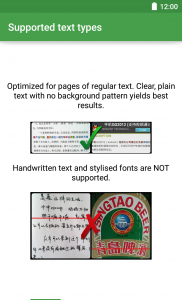 ] [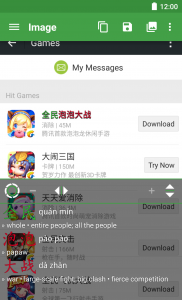 ] [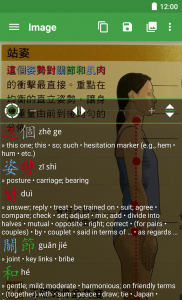 ] [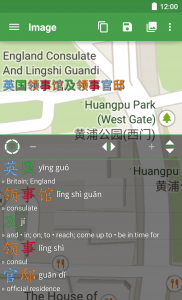 ] [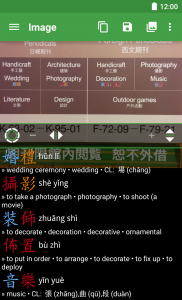 ] [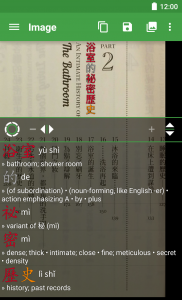 ] [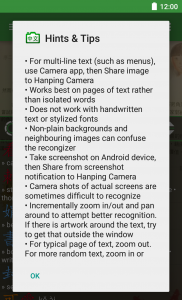 ]
[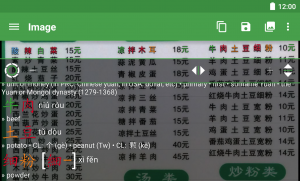 ]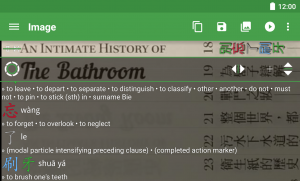 Available from the Google Play Store.