For any of you running MIUI 11 (which is the system running on most Xiaomi devices released in the past couple of years), you might have experienced an issue with the AnkiDroid Flashcards integration.
The first time you select AnkiDroid Flashcards from Hanping's side navigation drawer, you will be presented with: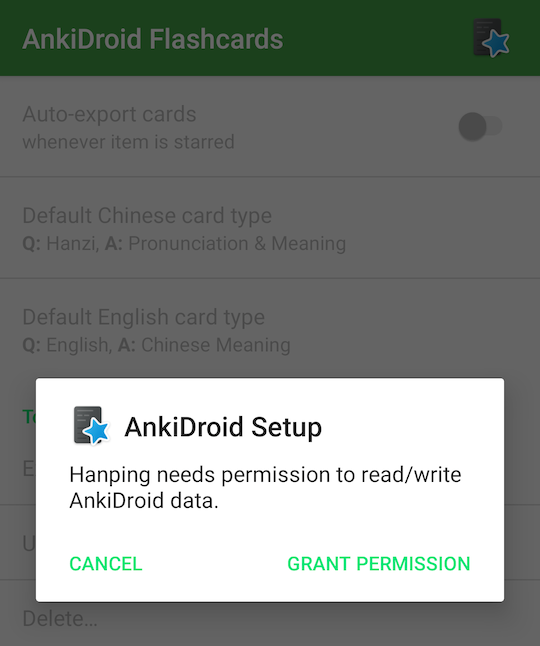 Tapping on Grant Permission would normally take you forward to configure the AnkiDroid configuration, but on MIUI 11 it fails and you are taken back to Hanping's main screen instead. This is a bug with MIUI 11.0.3 (which hopefully Xiaomi will fix in the near future) and luckily there is a workaround:
Enable Developer Options, by going to your device's Settings then My device / All specs and then tap on MIUI version about 10 times quickly. You will then see a message You are now a developer (if you don't, then you may have previously already enabled this option)
Go to Settings / Additional Settings / Developer Options screen and scroll to the bottom to turn off MIUI optimization
Back on the homescreen, long tap on Hanping Pro and then App Info / Permissions / Additional permissions and turn on Read and write to the AnkiDroid database
Launch Hanping Pro / AnkiDroid Flashcards (side nav drawer) and then the Grant Permission should work!